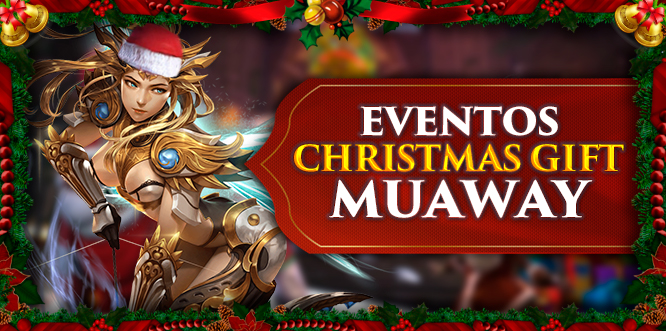 EVENT #10
-

SECRET CODES

MUAWAY - DECEMBER/2020

Escolha seu idioma abaixo | Choose your language below

|

---
Quote
The events don't stop and the chances of everyone participating also don't, because in this event, there is no special requirement, just to have attention and be fast.

In this

Special Christmas

event Secret Codes, we brought an inedit TOP 100, increasing even more the chances of victory for all participants.

We wanted to reward even more players, but unfortunately this is not possible, but don't give up participating, because you can be one of the winners and fill your account with epic rewards.



Question:

What is the correct way to participate in this event?


Answer:

During the day 27/12/2020 (Sunday), in the period between 10:00am (GMT -3) to 09:00pm (GMT -3), a total of 10 secret codes will be displayed in all MuAwaY servers (Trades, Spots and Vips).

After the announcement of the last secret code, the 100 first players who post the correct codes with their ingame nickname in the text channel #『 códigos secretos 』 in the CHRISTMAS GIFT section of our Discord will be the winners, edited messages will be disqualified.



If you still haven't joined our Discord server, join us right now using the invite below:


away.mu/discord



* Click here and learn how to be verified in our Discord server



Don't forget, only 10 codes will be sent during the day, with rewards for the TOP 100 winners.



See the post template, and how it should be sent:

CODE NUMBER - CODE
And lastly, your ingame nickname, for example::


Quote

1st CODE 3RSIYDBP87
2nd CODE 5QYI9NE439

NICK: DiviX




ATTENTION: You are forbidden to edit your message or send double messages, if you do this you will be disqualified. It's only possible to send messages in the event channel once every 1 hour, so only use your chance to send a message in the channel when you have all the 10 codes, any type of flood or non-event related messages will be deleted and the player may be banned from our Discord server.



---
Quote
1st Place: 01 Christmas Gift Promotion Package - MuAwaY 2020
2nd Place: 01 Bag Box of Christmas
3rd Place: 01 Set of Zeus
4th Place: 01 Fenrir Ghost [Skin 2]
5th Place: 01 Fenrir Steel [Skin 2]
6th Place: 01 Sword of Style [P]
7th Place to 20th Place: 07 Creation Mix +15
21th Place to 30th Place: 05 Creation Mix +15
31th Place to 50th Place: 03 Creation Mix +15
51th Place to 70th Place: 02 Creation Mix +15
71th Place to 100th Place: 01 Creation Mix +15

---
Quote
Beginning of the Event: December 27, 2020 at 10:00am (GMT -3)
Ending of the Event: December 27, 2020 at 9:00pm (GMT -3)

Note: The beginning and ending times are the intervals where the codes will be sent randomly within the game, that is, it doesn't mean that the first code will be sent at exactly 10:00am and the last one at 9:00pm, so pay attention to the messages sent in the game global chat.

---
Best regards,


MuAwaY

Team.